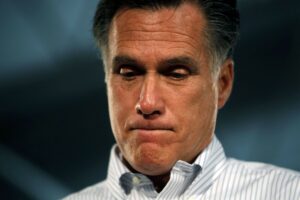 Joseph Smith, Jr.
claimed he received golden plates from an angel, which he translated into a new holy text filled with ancient Godly wisdom. Latter-day Mormon Mittens could use some divine wisdom right about now, given his latest hideous misstep on the tragic killing of four American diplomats in Libya, including US Ambassador Christopher Stevens.
As
New York
magazine reports, Romney's head-scratching statement that Obama was sympathizing with terrorists during the embassy attack, author Jonothan Chait explains that it's not that Mittens misspoke, he's just following the same misguided campaign tactic of (falsely) attacking Obama's "apologist" foreign policies: 
Pretty much
everybody in politics
, Republicans included, is shaking his or her head over Mitt Romney's ham-handed attack on the Obama administration and equally clumsy follow-up today. But Romney's strategy here was a perfectly straightforward application of the foreign-policy principles that have guided his campaign from the outset.
And so, when militant Islamists attacked an American embassy, Romney automatically reverted to this line, releasing a statement charging "that the Obama administration's first response was not to condemn attacks on our diplomatic missions, but to sympathize with those who waged the attacks." This was triply false: (1) The statement in question was not made by the Obama administration but by the embassy staff, (2) it was not a response to the attacks but a (justifiably panicked) attempt to preempt them, in keeping with a long-standing bipartisan practice of distancing the U.S. from inflammatory religious provocation, and (3) it was not an expression of sympathy with attackers or other militants.
The pundits have pondered  endlessly yesterday the political implications of this latest major faux pas from Camp RomRyan.  One this is clear, however, Elder Willard's understanding of foreign policy is more at home on Planet Kolob than Washington, DC.
Join Mike LIVE at 9PM ET for these and other stories from the far-flung fringes of the flying monkey right: 877-996-2556
""""""""""""""""""""""""""""""""`
ATTENTION TRUTHSEEKERS!  Free Speech Just Got Cheaper!  From now until the election, you can sponsor an hour of the program for HALF PRICE!  For just $50 you can advertise your local political candidate, inform fellow Truthseekers about important ballot initiatives, or spread the word about why this election is important to you.  Mike will read your sponsorship message on the air three times during your hour, for half the cost!  If you've been waiting to support the program, it just got more affordable, so now is the time!  Of course, the sponsorships are also a great way to advertise your small business or celebrate a special occasion.  So click on this link and let your voice be heard!
""""""""""""""""""""""""""""""`