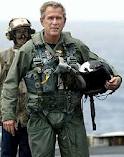 . . . for real this time.  President Obama today announced that our troops would be home from Iraq by the end of the year, ending the near-decade-long deadly, pointless, costly and illegal action by the Bush Crime Family. Tens of thousands of Iraqis maimed or killed, thousands of US troops permanently disabled, and over 4,400 dead, and $1 trillion evaporated from the national coffers, we can finally close one of the ugliest chapters in US history.
The President's announcement came with no warning, no fanfare, no banners, no cheering troops, no aircraft carrier, and no codpiece or flight-suit; just a simple, clear statement that should go a long way to increase his popularity with his base, many of whom have felt he's reneged on most of his campaign promises, including ending the war in Iraq.
We can argue about whether or not he should receive full credit for ending our involvement in Iraq, given that this deadline was determined back in 2008,  before he was elected, as the last date the Iraqi government would guarantee our troops would be  immune from prosecution in Iraqi courts.  But regardless of that contingency, our troops will no longer kill or be killed in a horrific, baseless, unprovoked "war" against a people who did nothing to us and a leader we helped install and provided weapons.
Hopefully, the drawdown from Afghanistan will soon follow.
You have to wonder, what will the Neocons whine about now, given the one-two punch of Qudaffi's death and the end of the Iraqi war?  Can the GOP candidates safely criticize either action in the coming months?
Join Mike LIVE tonight at 9PM ET for this and political podcast trivia!  One lucky Truthseeker with the correct answer to our trivia question will win a FREE annual subscription to the premium Malloycasts!  Many (many many many) thanks to our wonderful Truthseekers who have donated these podcasts in support of our independent broadcasting!
877-996-2556 LIVE 9PM ET!