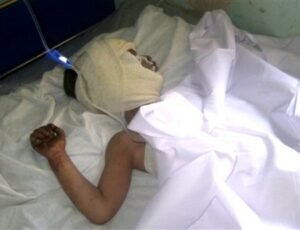 I remember when a "mistake" was when you forgot to send in your car insurance payment, or threw a red shirt in with your white towels, turning everything pink.  The word "mistake" takes on a frightening, utilitarian meaning when the Pentagon bandies it about during times of war.  The latest U.S.  wartime "mistake" appears to be in the Farah Province in western Afghanistan, where villagers brought scores of dead civilian bodies in truckloads to prove that the deaths were a result of U.S. airstrikes.
Dr Atiqullah, a resident of the village, told Pajhwok Afghan News "the bombardment destroyed the whole village and some of the mutilated bodies were beyond recognition. A tribal elder of the village, Abdul Manaan, told this news agency that 52 people in Ishaqzai area and 65 in Agha Sahiban area had been killed in the blitzkrieg." As many as 150 were killed in this recent attack.  If confirmed, this death toll would top the deadliest incident last year, in which 90 were massacred in an airstrike over an alleged Taliban stronghold.
Following the typical pattern, Washington initially denied the incident, then apologized for the "mistake."  The only reason they're skipping the "denial" part this time is because the survivors trucked out the victims for all to behold.
According to Reuters, "the governor of Farah Province, Rohul Amin, said about 30 bodies had been trucked to his office, most of them women and children. Other officials said the overall civilian death toll may have been much higher, with scores of people feared killed while huddled in houses that were destroyed by U.S. warplanes."
U.S. military officials are conducting another self-investigation into the incident and will doubtlessly soon apologize for the "mistake" they made in accidentally killing people while intentionally dropping bombs on people.  Orwell would be proud of such logic.  As in, whoopsie – didn't mean for that bomb to blow off your child's legs, we were aiming for the fella behind that tree.
Sorry –   Lemme make it up to ' ya, got any pomegranets you'd like us to buy?  Honeydew melons?  Anything but poppies . . . .