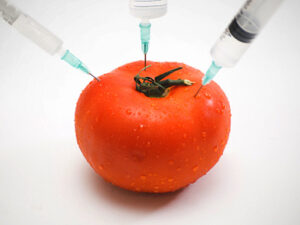 Join Mike LIVE tonight for the news stories not covered by the corporate media.  Predatory capitalism does not care about sufficient food for hungry Americans, or about a livable wage, or fair hiring practices, or equality in the workplace, or in education, or fair competition in the marketplace.  It wants vertical consolidation, with absolute control.  A nation of one Walmart.  One Montsanto.  One McDonalds.
  Amen.
And a serf worker class that owes its soul to the company store.
The Department of Justice has suddenly done an about-face on the Montsanto genetically-engineered food controversy. They began a three-year-long investigation, then abruptly ended it with no explanation.  Why?  Mother Jones reports:
There's an age-old tradition in Washington of making unpopular announcements when no one's listening—like, you know, the days leading up to Thanksgiving. That's when the Obama administration sneaked a tasty dish to the genetically modified seed/pesticide industry.
This treat involves the unceremonious end of the Department of Justice's antitrust investigation into possible anticompetitive practices in the US seed market, which it had begun in January 2010. [1] It's not hard to see why DOJ would take a look. For the the crops that cover the bulk of US farmland like corn, soy, and cotton, the seed trade is essentially dominated by five companies: Monsanto, DuPont, Syngenta, Bayer, and Dow. And a single company, Monsanto, supplies nearly all genetically modified traits now so commonly used in those crops, which it licenses to its rivals for sale in their own seeds.
What's harder to figure out is why the DOJ ended the investigation without taking any action—and did so with a near-complete lack of public information. The DOJ didn't even see fit to mark the investigation's end with a press release. News of it emerged from a brief item [2] Monsanto itself issued the Friday before Thanksgiving, declaring it had "received written notification" from the DOJ antitrust division that it had ended its investigation "without taking any enforcement action."
A DOJ spokesperson confirmed to me that the agency had "closed its investigation into possible anticompetitive practices in the seed industry," but would divulge no details. "In making its decision, the Antitrust Division took into account marketplace developments that occurred during the pendency of the investigation," she stated via email. I asked what precisely those "marketplace developments" were. "I don't have anything else for you," she replied.  Monsanto, too, is being tight-lipped—a company spokesperson said the company had no statement to make beyond the above-linked press release.
Diana Moss, vice president and senior research fellow of the American Antitrust Institute, told me that the DOJ's information blackout on the case is unusual—and frustrating. "To have a two-year investigation and close it without a peep in our view does a disservice." Moss is the author of a 2009 paper [3]concluding that the GM seed market "requires antitrust enforcement and/or legislative relief."
Welcome to the New American Century.  The hardware and software of the seed industry are being held hostage by Montsanto, which just begs for anti-trust investigations.  But who cares, right?  It' all Frankenfood anyway.  But it's also about corporate control our our food sources, which is a concern to all of us.
–KBM
It's the holiday season, Truthseekers.  We so need your support!  It's the perfect time to send a sponsorship shout-out to your special someone this season, or advertise your small business!  And there's great gift merchandise in the Malloy mall!  We cannot continue without your support, Truthseekers. Please buy a podcast gift subscription, or sponsor an hour, or make a paypal donation on our behalf or in memorial of a loved one.  We are under siege by those who would silence our independent broadcast and cannot move on without your help!  As always, you are the most important part of the program and we appreciate and value each and every one of you!
Join Mike LIVE at 9PM ET for these and other stories from the far-flung fringes of the flying monkey right!  877-996-2556!