AUGUST 02 UPDATE
we are a repeat program from last night Truthseekers, due to storms and power outages at the Malloy studio.
We will keep you updated, should be LIVE for Friday
/////////////////////////// (hope Q morons are counting the keystrokes)///////////////
Star Trek fans, such as myself, might remember "Q" as the omnipotent, but impish, alien outcast from the "Q Continuum" who tormented Captain Jean Luc Picard on "Next Generation." If I lost you there, sorry. Trekker here.
Now the damnable Neocons have co opted that, too, with "Q Anon," a movement or person that sprang to life around October of 2017 and has captured the zeitgeist of the wack-a-doodle conspiracy theory obsessed MAGA crowd. They are growing in numbers. Rapidly. Looking at that Tampa rally last night, they are experiencing some kind of mass psychosis.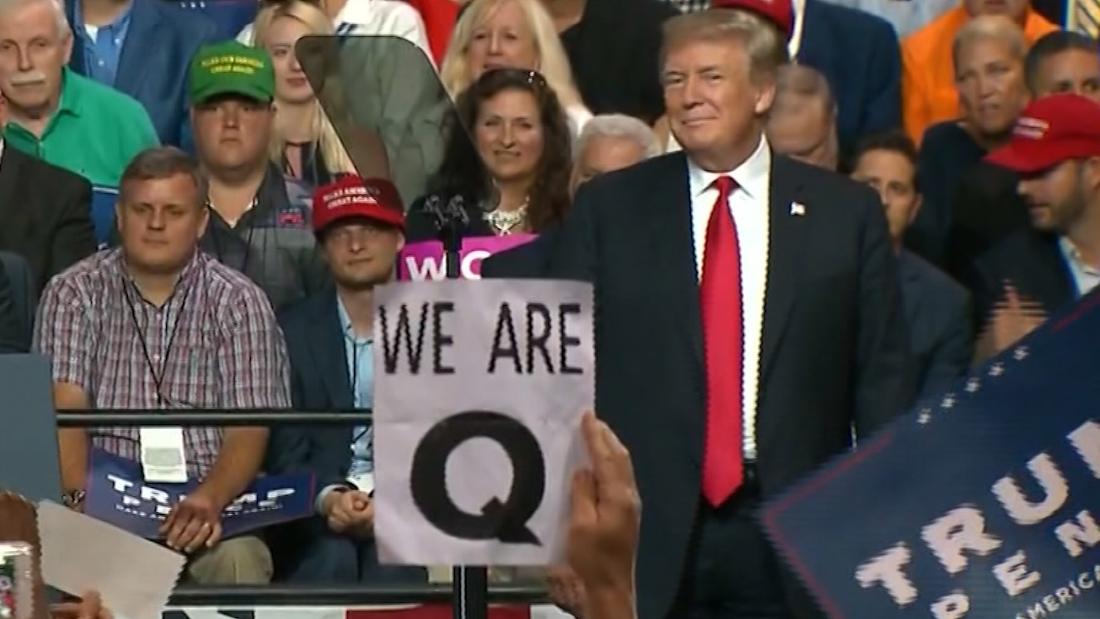 Qanon or Q, is an alleged member of the American Military Intelligence that serves President Trump (best president in history) on a mission to defeat deep state child sex pimps and the mainstream media by sending secret messages encoded in Trump's misspelled Tweets. And I'm not even kidding. This QAnon has managed to usurp Alex Jones as most dangerous lunatic in America.
Welcome to The Great Awakening. These fanatics believe Trump is a political Messiah who will bring the Second Revolution. J.P. Morgan sank the Titanic and that Hillary Clinton, Barack Obama, and George Soros are planning a coup and traffic children on the side. Pizzagate was real. Sandy Hook was not.
Here's the inner workings of the "movement" according to WaPo and others:
QAnon supporters believe that at least one government insider, "Q," is using various platforms to feed "anons" — Q's followers — information about…well, all sorts of things. As the Guardian noted in this excellent explainer, it can be difficult to pin down what exactly proponents of QAnon take the consequences of Q's dispatches to be. But many have extrapolated the breadcrumbs supposedly left behind by the deep state agent (or agents) to mean that Hollywood celebrities are engaged in a widespread pedophilia ring; that bad actors once tried to shoot down Air Force One with Trump aboard — and other evidence-free notions.
True believers accept as absolute fact that Trump and Mueller (get this) are secretly working together against the Clintons, various Hollywood actors, shadowy unnamed Deep State villains, and random child sex offenders to bring about the Second American Revolution.
They exist in a world of alternative facts where Trump is constantly battling a virtual Marvel Universe of evil forces, like the mainstream media. And Tom Hanks. Yes, he is actually one of the leaders of the child sex trafficking ring. Because of course he is.
And a large percentage of QAnon followers are convinced that Q is none other than JFK Jr. They are undeterred by the fact that he and his wife died in a tragic plane crash 20+ years ago.
Why him? Q knows. Y not?
One "breadcrumb" used as proof is that Trump met Putin in Helsinki on July 16, the anniversary of JFK Jr's death. Yeah, that makes sense. If you're already brainwashed by Alex Jones and Sean Hannity. QAnon believers claim Kennedy has even been spotted in disguise at Trump rallies, posing as just another Trump actor. Can't make this up.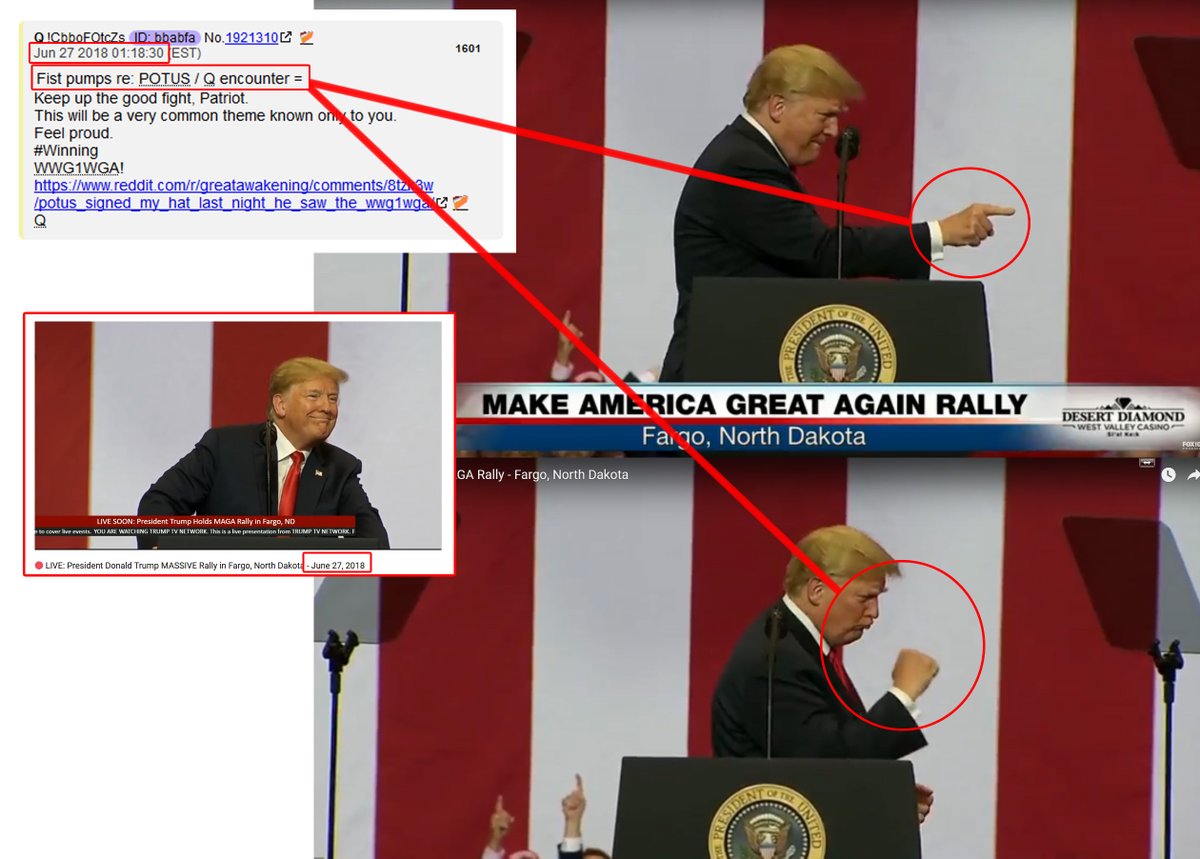 Like many delusional psychotics, they seek hidden coded messages everywhere. Many are embedded in Trump's personal appearances. Q helps his supporters "decode" these "breadcrumbs." The weird covfefe Tweet? Yup – secret hidden message. Whenever Trump misspells in a tweet, that's a sign. When Trump walks back a statement about Putin and the lights go out in the conference room, Q is sending a coded message.
Of course, the manic ravings spread by QAnon's followers are likely to turn violent. For example, The Daily Beast reported that a man armed with a rifle and a hand gun was arrested in June after he drove to the Hoover Dam in an armored truck an demanded the Deep State release "the OIG report," which had already been released.
But, you see, the report didn't tell the whole story according to Q fanatics. Cryptic typographical changes to the report in "the margins and the fonts that are used" proved that the released OIG report had been altered. Maybe by Barbara Streisand, who knows. But this armed domestic terrorist was sure Trump was going to get to the bottom of it, because Q prophecy demands it.
Daily Beast continues:
Q responded to the lukewarm reception of the OIG report by claiming that there were actually multiple OIG reports that actually did contain the revelations Q had promised, but that the one that was released had been changed by Deputy Attorney General Rod Rosenstein, a nemesis for QAnon believers. In a clue published after the OIG report came out, Q claimed Trump had an "original IG unredacted report" that the public hadn't seen.
The "real" OIG report would destroy Trump's enemies forever. The second fictitious report supposedly proves the FBI, the Justice Department, and high ranking Democrats were engaged in a conspiracy to prevent Trump from becoming president. Mark Zuckerberg is a CIA agent. The family of wealthy Jewish bankers, the Rothschilds, lead a satanic cult which was uncovered by Vladimir Putin.
And they can print plastic 3D guns. Scared yet?