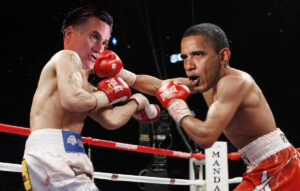 It may not be the Thrilla in Manilla, but tonight's first and most crucial presidential debate may be the first televised event in months to garner more audience than Here Comes Honey Boo Boo . . .. but probably not.
The Denver Duel begins at 9PM ET and we will take it live, with blow-by-blow color commentary from your humble and obedient servant, followed by more erudite dissection by David Bender in our third hour tonight. 
Don't miss a minute of the flying monkey-free fun and frivolity, Truthseekers! 877-996-2556!