PODCAST UPDATE
Last night's podcast will be posted soon, we apologize for the problem!  And please note, tomorrow night (Friday's) program will be an encore show, so there will be no new podcast for Friday 10/25/2013.
We have a new podcast back-up system in place so – fingers crossed – all should be well from this point onward.  Again, many apologies for the inconvenience and we so appreciate your patience and understanding!
———————————————————————————————–
Slate has an update on our ever-increasing deadly drone strikes, Truthseekers, and it's worth repeating.
Two new reports out today cast a disturbing light on America's drone war. One by Amnesty International focuses on recent strikes in Pakistan. Another, by Human Rights Watch, assesses U.S. targeted killings in Yemen. Most discomfiting, in the Amnesty report, is the story of Mamana Bibi, a 68-year-old grandmother killed by hellfire missiles while tending her garden on Oct. 24, 2012:
"She was standing in our family fields gathering okra to cook that evening," recalled Zubair Rehman, one of Mamana Bibi's grandsons, who was about 119ft away also working in the fields at the time. Mamana Bibi's three granddaughters: Nabeela (aged eight), Asma (aged seven) and Naeema (aged five) were also in the field, around 115 and 92ft away from their grandmother to the north and south respectively. Around 92ft to the south, another of Mamana Bibi's grandsons, 15-yearold Rehman Saeed, was walking home from school with his friend, Shahidullah, also aged 15.

Accustomed to seeing drones overhead, Mamana Bibi and her grandchildren continued their daily routine. "The drone planes were flying over our village all day and night, flying in pairs sometimes three together. We had grown used to them flying over our village all the time," Zubair Rehman continued. "I was watering our animals and my brother was harvesting maize crop," said Nabeela.

Then, before her family's eyes, Mamana Bibi was blown into pieces by at least two Hellfire missiles fired concurrently from a US drone aircraft.
A second strike hit the field nearby a few minutes later, badly injuring one of Mamana Bibi's grandsons who had run to the scene of the first explosion.
And yet, despite this report, the White House is denying allegations that it's use of drone strikes in various nations around the world constitutes war crimes.
Human Rights Watch (HRW) released Tuesday a detailed 102-page report on US drone attacks and airstrikes in Yemen against militants of the Al-Qaeda wing in the country. Amnesty International (AI) released its own report simultaneously, on US drone strikes in Pakistan.

The reports outline a variety of longstanding issues and controversies surrounding the US covert drone program, including details of civilians killed by strikes in violation of the law and US policy.

"We are reviewing these reports carefully," White House spokesman Jay Carney said Tuesday.

"To the extent these reports claim that the US has acted contrary to international law, we would strongly disagree.

"The administration has repeatedly emphasized the extraordinary care that we take to make sure counterterrorism actions are in accordance with all applicable law."

Carney insisted using unmanned drones against those the US labels terror suspects is better than sending troops or using other weapons, saying the Obama administration was "choosing the course of action least likely to result in the loss of innocent life."
Well, Jay-Jay, it's not working. A grandmother working in her garden, is she an enemy of America? US drones are massacring civilians every single day. 70% of drone strike victims in attacks on Yemen were civilians.  Does that seem a course of action "least likely to result in the loss of innocent life" to you, Truthseeker?
The HRW report considers six drone strikes that killed civilians in Yemen, one of which took place in 2009, and other five occurring in 2012-2013. These six attacks claimed the lives of 82 people, 57 of whom – or 70 percent – were civilians.
What is a war crime, Truthseeker? Innocent children are blown to bits by hellfire missiles dropped from unmanned aircraft, how is that classified? As a humanitarian mission?
Acceptable collateral damage?
Ah, but the corporate media and right-wingers will assert that there are still evildoers lurking around, and they must be stopped at any cost.  They make be hiding in elementary schools or hospitals, or wedding receptions.
Dead children.  Maimed civilians. All can be justified by the "war on terror," right?  Seems more like a war of terror to me.
–KBM
Pirates, hostages, shooting deaths near another naval base – all we need are locusts and brimstone and the Rapture Right will be packing their bags . . ..
More news to report than time allowed, Truthseekers! Don't miss a minute of Malloy tonight! 877-996-2556
————————————————————————————————
Follow us on Twitter @mikemalloyshow #truthseeker
Call 877-996-2556!
Listen on the PV app on TuneIn Radio!
—————————————————————————————————–
Truthseekers, we are steady working on the NEW and Improved studio rebuild! We know you will enjoy the Malloy: Uncensored Video program that is to come.
That said, we are still in need of your support!  We no longer have any "retail" advertisers to help pay the bills and are still counting on your
sponsorships
to keep us afloat.  Surely you have something to say about the madness around us? Or a product or small business to advertise?  Perhaps a special occasion to commemorate?
Mike will read your message three times during your sponsorship hour!  It's the best deal on the public airwaves!  Exercise your free speech while you can!
By popular demand, here are some photos of Molly as a "Girl Scout Zombie" (with cookies!) at the Halloween parade this weekend.  Enjoy!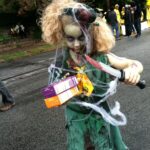 ——————————————————————————
Molly as a "Girl Scout Zombie at the Little Five Points Halloween parade 10/19/13 – Atlanta